Stay Involved

Parent Advisory Council
About
The Parent Advisory Council (PAC) is a group of 24 parents and supporters, two students and one faculty member who collectively provide feedback and support to Parent and Family Programs and give input to university leadership on matters involving student development and success. Sharing their diverse experiences and perspectives, PAC members serve as university ambassadors, fostering engagement, support and communication between and among parents and the university.
The PAC meets quarterly, with fall and spring meetings held during Mustang Family Weekend and Open House, respectively. During winter and summer quarters, the council meets virtually. PAC members are active volunteers at the university's largest annual events and offer resources throughout the academic year to the Cal Poly parent and supporter community. 
---
Your Parent Support Network
Contact information and biographies for each PAC member are listed below, and we encourage you to connect with those who share common interests or professional and personal experiences. Reach out to a member today who has a student in the same college as yours or who lives near your hometown. Get connected to ask questions, share stories and learn effective strategies on how to support your Mustang.
---
Get Connected
2022-2023 Parent Advisory Council Member Roster
Stacey Napolitano, Chair

stacey@napolitanofamily.com
Term: 2020-2023
Campus Health and Wellbeing Liaison
Hometown: San Jose, CA
Student: Mia - Kinesiology '23, College of Science and Mathematics
I grew up in San Jose, California, received a Bachelor of Science in Physical Education from California Polytechnic State University, SLO Class of 1988 and a Master's Degree in Education and Administration at San Jose State University.  I was a high school educator for 20 years and currently fill my time as an Interior Decorator.  I have served in several leadership positions and on educational boards.  As a parent, alumni, and educator I am excited to be a part of PAC and to share my time and talents with the Cal Poly Community.  My love of Cal Poly's "Learn by Doing" philosophy has led my desire to give back to Cal Poly!
Lisa Anderson
Term: 2022-2025
Hometown: New York City, NY
Student: Sophie, General Engineering '24, College of Engineering
While I grew up in the great state of Missouri, I have lived the majority of my adult life in New York City.  In 1984, I received a Bachelor of Science in Business Administration - Finance from University of Missouri, Columbia.  Professionally, I have spent the entirety of my career in finance focused on product/business development in both investment banking and most recently, asset management.  On the educational front, I enjoy sharing my passion for finance and have had opportunities to teach as a guest lecturer at business schools in both New York and California. When my student became a part of this amazing Mustang community and being 3,000 miles away, I quickly leaned into the rich resources of the Parent Advisory Council.  The PAC has been invaluable in helping our family transition.  It will be an honor to have the opportunity to be of service to families that may be out of state, would like to learn more about the DRC, or interested in Greek life.
Anna Baez

Term: 2022-2025
Hometown: Orange, CA
Student: Isabella, Music '26, College of Liberal Arts
With over 16 years of serving in an advisory role in both business and education, Anna continues to be actively involved as a leader in both her children's schools, her church, and her community, where she volunteers on a regular basis. She is a licensed Realtor and enjoys traveling, and spending time with her family and friends. She is happiest when giving back, and opening her home and heart to family, friends, and those in need. It is her compassion that makes her successful in engagement and helping others achieve their goals. 
Brian Barrett

Term: 2019-2022
Career Services Liaison
Hometown: Valencia, CA
Students:
Andrew, Mechanical Engineering '23 - College of Engineering
Daniel, Computer Engineering '20 - College of Engineering
I recently retired after a very enjoyable 40-year career in the Aerospace Industry, although I remain active in a consulting role.  I attended a large mid-western University where learn by doing was also a strong part of the culture.  I personally benefited in my career from the jump start that a learn by doing approach to higher education provided and it was a major draw for my two Mustang sons as they began their university journey.  I am excited about the opportunity that I have, as the PAC Career Services Liaison, to work with the university administration in getting the message out to industry about the benefits of hiring a Mustang who has relevant hands-on skills from day one. Even in retirement, I continue to practice "learn by doing" as I recently finished building an experimental aircraft that my wife and I will use to visit our 3 sons….wherever they may end up. 
Steve Bell
Term: 2022-2025
Hometown: Marysville, WA
Student: Logan, Industrial Engineering '26, College of Engineering
I have over 20 years experience in high-tech between Google, Microsoft, Amazon and Oracle. My roles are varied in terms of technologies (mobile, digital marketplaces, and cloud) and positions (Product Management and Technical Program Management). I retired from the US Navy Reserve as an Information Dominance Warfare Office (Information Technology/Intelligence) after 25 years of service. I am a Seattle native and live in a suburb (Lake Stevens) with my amazing wife (Kimberly), our dogs (Coco and Katsu) and our adult kids are close-by (Derek, Natasha and Logan). I enjoy long motorcycle rides, hiking, walking, cycling, reading, constantly learning, training my dogs, and avoiding remodeling projects. 
Nicole Birdsall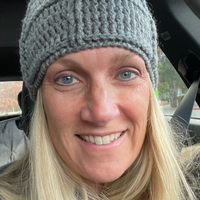 Term: 2020-2023
Hometown: San Jose, CA
Student: Jaclyn '24, College of Liberal Arts
I have been a technical product management for a range of eCommerce, FinTech, and start-up companies in Silicon Valley for 20 years and an adjunct professor teaching undergraduate and graduate marketing management, eCommerce and digital marketing in-person and online courses for 18 years. I received my BS in Operations Management and Information Systems from Northern Illinois University. While at NIU, I spent a semester studying aboard at the University of Wolverhampton in Wolverhampton, England. I received my MBA concentrating in Marketing and MA in Psychology focusing on Organizational Behavior from Golden Gate University. I'm currently a Doctoral Candidate studying the convergence of Cyberpsychology and Consumer Behavior with the hope of completing my dissertation Fall 2022. My husband is a Cal Poly Alumni and our daughter, Jaclyn, is a 2nd year Graphic Communications student.  We split our time between our homes in the Bay Area and San Luis Obispo. I have had the great pleasure of mentoring students and colleagues over my career and I'm thrilled to be a part of Cal Poly's Parent Advisory Council where I hope to share my own knowledge and experiences with Cal Poly parents, supporters, and students.
Mily Dahlke
Term: 2021-2024
College of Engineering Liaison
Hometown: San Diego, CA
Student: Justin, Industrial Engineering '24, College of Engineering
Born in England, raised in India, and living in San Diego, CA since 1995, I am a software engineer by trade, but a teacher at heart. I have been in the industry since 1992 and have worked for big companies like HP, Yahoo, and Apple, as well as startups like MusicMatch and Shazam. I would love to share my experiences with the engineers of tomorrow and serve in any way I can. I love participating in sports like badminton and ultimate (though a sports injury put a damper on UF). But above all, I love tutoring struggling students in math, AP Calc, AP Physics and am addicted to the highs of the "that makes sense!" moments. I have two biological children, one a LMU CS major, batch of 2021, and the other a Cal Poly IE major, batch of 2024, and two adopted canine children.  I am excited to grow in this role and be part of the Cal poly community, alongside my son.
Kimaili "Ken" Davis
Term: 2020-2023
Hometown: Oak Park, CA
Student: Kate '23 - College of Science and Mathematics
I was born and raised in New York state, earned my BA in Political Science from Kutztown University of Pennsylvania and moved to Southern California after graduation. I have worked in the Insurance field for 30 years helping businesses navigate the Risk Management process. My goal while on the Parent Advisory Council is to support Cal Poly SLO's vision of Diversity and Inclusion. I strongly believe that Cal Poly SLO has so much to offer a student while attending and after graduation. During my tenure on the PAC, I will be of service to students, parents and supporters. My wife and I are so proud of Kate's attendance at Cal Poly SLO and excited to be part of the Mustang family!  I am a Lambda Chi Alpha Alumnus. I am a Mason with Conejo Valley Lodge 807. I enjoy riding my motorcycle and practicing Tang Soo Do. I look forward to meeting and assisting you in the years to come! 
Stacy Flaherty
Term: 2018-2022
Disability Resource Center Liaison
Hometown: Ballard, CA
Students:
Lauren - Agricultural Communication '22, College of Agriculture, Food and Environmental Sciences
Keegan - Agricultural Business '19, College of Agriculture, Food and Environmental Sciences
Taylor - Animal Science '17, College of Agriculture, Food and Environmental Sciences
I'm a newly retired teacher and I have always been very active in my children's school. I've always enjoyed my decades of involvement in PTSA, School Site Council and leadership roles both as a teacher and parent. I'm excited to continue my relationship in my kids' education at the collegiate level. I'm hoping to bring my experiences to Cal Poly's PAC which include: Sorority and Fraternity Life, Quarter Plus Program, DRC (disability resource center), CP Men's Lacrosse, CP Rodeo/Rodeo Booster & having 3 children with different majors & minors.  During my first year of empty nesting, I've kept busy horseback riding and traveling along with business trips with my husband of 25 years. I'm also very true to my sorority, Delta Gamma; as I'm an advisor at the UCSB chapter. The DG house of 283 girls has kept me young and active!
Renee Fogelberg
Term: 2022-2025
Hometown: Marin County, CA
Student: Caitlin, Agricultural Business '25, College of Ag, Food and Environmental Sciences
Dr. Renee Fogelberg is a board-certified Ob/Gyn physician who has practiced at Kaiser Permanente Northern California for the last 20 years. She started her career at the KP Richmond Medical Center in 1999. She received her medical training at Columbia University in New Your City and did her residency training at Kaiser Permanente in San Francisco. She has been involved in patient education for over 10 years and became the Northern California Clinical Lead for tobacco cessation in 2011. In partnership with the health education teams and quality leads as well as primary and sub-specialty physicians, she has been successful in designing and implementing a variety of tobacco cessation workflows which has led to over  250,000 quitters driving to an all-time low prevalence of 6.4%.
Joss Maas
Term: 2019-2022
Colleges of Agriculture, Food and Environmental Sciences Liaison
Hometown: San Diego, CA
Student: Matthew '22 - College of Agriculture, Food and Environmental Sciences
I am very excited to be a part of the Mustang Nation. I am here to promote health and wellness throughout the Cal Poly Community. I am a Registered Nurse and Nurse Practitioner with years of experience working with youth and young adults. I am a Red Cross First Aid and CPR instructor. I am also an adult scouter in the  Boy Scouts of America where I have been a merit badge counselor, camp nurse, committee member of my troop for special events as well as being on the Eagle Board of Review Committee in my district. My board experience includes 3 years as the Clinic Vice President of my nurses union UNAC/UHCP.  I am also an active member in the Junior League of San Diego where I was on the Executive Management Team for two years. I am looking forward to working with CAFES and supporting them through all the wonderful projects that are in process. I also look forward to meeting new and existing families and staff in the Mustang Nation.
Cassandra Ornelas
Term: 2018-2022
University Housing Liaison
Hometown: Santa Barbara, CA
Students:
Carleigh '22 - College of Science and Mathematics
Jenna '14 - College of Agriculture, Food and Environmental Sciences
I possess a unique perspective both personally and professionally as a Cal Poly suppporter and student advocate.  Professionally, I am a Credentialed School Nurse with over 24 years of experience currently working at Montecito Union  School. Our school has experienced devastation and loss during Thomas Fire and subsequent Debris flow, and now uncertainty and fear during the COVID-19 pandemic. For both my job as a School Nurse and as a member of PAC, I have been challenged more than ever before to think outside the box, promote health and safety, develop COVID-19 health protocols and parameters for testing and treating. As an active student advocate, I hope I can support you and your Mustang. My strengths include welcoming new parents, being an attentive listener, providing referrals to pertinent campus resources, and being a representative for Cal Poly students and supporters. My area of expertise is housing as I serve as the housing liason, focusing on resources related to on and off-campus housing options. I have two beautiful girls who both have/have had the opportunity to attend Cal Poly. My oldest graduated in 2014 with a degree in Animal Science and has followed her dreams this summer to accept a position as an Assistant Supervisor at the ASPCA in Bucks County, Pennsylvania. Our youngest is currently attending Cal Poly and is a junior studying Liberal Studies with a minor in Biology. I am grateful to have the opportunity to contribute my time and expertise to the PAC and Cal Poly University since 2010. I hope I have the opportunity to support your Mustang or you in the future!
Hatha Parrish
Term: 2021-2024
College of Architecture and Environmental Design Liaison
Hometown: Hawthorne, CA
Student: Kayla - Landscape Architecture '25, College of Architecture and Environmental Design
I was born in Miami, Florida, but spent most of my school years in Las Vegas, Nevada where I participated in an International Baccalaureate program. After graduating high school, I moved to Southern California to attend Loyola Marymount and earned a BS in Biology with a minor in Biochemistry in 1994. I have always enjoyed school and decided to try teaching at Hawthorne High School in 1995. I taught biology and AP biology there until I made the difficult decision to pursue roles that took me out of the classroom. I missed the students, but was motivated by the ability to impact a greater number of students, first at the high school and then for the students at all of the high schools within my school district. In this time, I earned three masters degrees in the following areas: 1) Secondary Education, 2) Educational Technology, and 3) Educational Administration.  With these degrees, I held the following leadership roles at Centinela Valley Union High School District: Project Facilitator, Program Manager for CTE and Federal Programs, Vice Principal, and have been the Director of Federal and State Programs since 2008. In this capacity, I have supported the following programs: Family Engagement, English Learners and Immigrants, Career and Technical Education, Arts Integration, and Post-Secondary partnerships and student transition services. I believe parent involvement continues to be important as our students grow into adults and I am excited to support the Cal Poly community - and each of our children - as a member of the Parent Advisory Council.
Jim Pirkle
Emeritus Parent Advisory Council Member
Term: 2018-2022
Hometown: Monterey, CA
Students:
Geri, Experience Industry Management '20 - College of Agriculture, Food, and Environmental Sciences
Scott, Aerospace Engineering MS '20/BS '19 - College of Engineering
Fort Ord brought me to Monterey in 1982 and after serving 2 terms there I didn't want to leave so I opened a small insurance brokerage in 1990 and in 1993 married a local nurse, Beth (Fresno State). We loved having our two kids just 2 hours away, making it possible to see them both play lacrosse at Cal Poly and visit the beautiful SLO area. I was very impressed with the support the Cal Poly community gave my kids. They have both had some 'bumps' in their roads to maturity/graduation. Geri changed majors (and colleges, Math and Sciences to Agriculture, Food, and Environmental Sciences) after her 2nd quarter and studied abroad in Australia during the Fall 2018 quarter. She worked multiple years with the WOW program and in other activities/jobs around campus. Her plan to graduate in June 2021 changed after COVID hit with the resulting virtual classes. She accelerated her courses and graduated in December 2020 with her BS in Experience Industry Management with a minor in Psychology. Scott took 5 years to get his undergrad degree, plus 3 minors (Math, Physics, Astronomy). He then took advantage of the Blended Plus 1 program to get his Master's in Aerospace in just one more year. Both kids worked at Cal Poly and in the SLO area. They are currently working and we are an 'All-In' Mustang Family and want to help any future/current families feel as confident about this school as we do.
Jennifer Roberts
Term: 2020-2023
College of Liberal Arts Liaison
Hometown: Napa, CA
Students:
Celeste '21 - College of Liberal Arts
Maddy '17 - College of Agriculture, Food and Environmental Sciences
While raising my three children, I often found myself engaged and participating in all of their activities.  We kept busy with extracurriculars like: 4-H, Boy Scouts and every sport imaginable! I found myself coaching, leading 4-H groups and being a summer camp counselor for 14 years. I loved every minute of it, so much so that I wanted to keep up my involvement and support in their lives. Through supporting my girls at Cal Poly and my son at U.C. Davis, I have been fortunate enough to find a welcoming community in both places. It seemed only natural to be a part of the Parent Councils at my kids schools where I could continue on with being a part of their new communities.  Professionally, I am a residential realtor. I love helping my clients find their new home and enjoy utilizing my design background to help them visualize changes. In my spare time you can find me with a camera in hand, training my donkeys, baking cookies, gardening, sewing dog-dana's, or my latest adventure of canning my garden goods.  Engaging in face-to-face activities with parents and students is my favorite, so I am really looking forward to the time when we can all be together in person. Let's Go Mustangs!  
Ellen Solum
Emeritus Parent Advisory Council Member
Term: 2012-2018
Hometown: Cayucos, CA
Students:
James – Forestry and Natural Resources Management '16 and Forestry Sciences '20, College of Agriculture, Food and Environmental Sciences
Erica – Software Engineering, '17, College of Engineering
Topics I'm familiar with include: student housing; Greek life; student special needs; support; graduating in 5 years vs. 4 years; and, women in Computer Science.
Asif Subedar

Orfalea College of Business Liaison
Term: 2021-2024
Hometown: Los Gatos, CA
Student: Siraj, Agricultural Business '24, College of Agriculture, Food and Environmental Sciences
I was born in India, raised in the California Central Valley and graduated with a B.S. from Cal Poly in 1990. Following graduation, I worked and interned for several Fortune 500 companies. In 1994, I started my own company doing sales and marketing/engineering design for electrical and optical systems. I was always interested in real estate (started when I was at Cal Poly) and recently ventured into California real estate. I currently run my tech company in addition to doing real estate. My general philosophy relates to education - the single largest contributing factor to a student's success is parent involvement and interest to a degree that supports the dynamics of the parent/child relationship… oh, and.. start early! I am currently involved in my son's high school as a Foundation board member where we raise funds to facilitate and support technology in the classroom.
Kerrilyn Vander Heyden
Term: 2022-2025
Hometown: Seattle, WA
Student: Hobbs, Mechanical Engineering '26, College of Engineering
Susan Wise

Associates Students, Inc. Liaison
Term: 2021-2024
Hometown: Danville, CA
Student: Ashley, Recreation, Parks, and Tourism Administration '24, College of Agriculture, Food and Environmental Sciences
Moving to California from upstate New York, I grew up primarily in Southern California and received a degree in Psychology from San Diego State University. Upon graduation, I moved to the Bay Area to pursue a Masters in Organizational Behavior from St. Mary's College. I spent many years working within both the corporate and private sector specializing in leadership and organization development. After having three wonderful kids, my interests moved towards the field of education where I currently work as a college advisor to high school students. I've been fortunate to work, and volunteer, in a variety of capacities and leadership positions throughout K-12. I am now excited to extend that work to higher education and to be a part of the Cal Poly PAC. I can't think of a better place to spend time and to be of service to staff, students, and parents than in wonderful San Luis Obispo. I recognize the importance of engaging students and families during this transitional time and I look forward to welcoming all to Cal Poly. Go Mustangs!
Representatives
Tom Bensky, Faculty Rep
Suha Hussain, Student Rep
Parent Advisory Council Meeting Minutes and Documents
Meeting Minutes
2021-2022
2020-2021
2019-2020
2018-2019
2017-2018
2016-2017
2015-2016
---
Bylaws:
---
Join the Parent Advisory Council
Interested in becoming a PAC member? COMPLETE OUR INTEREST FORM and a staff member from Parent and Family Programs will contact you with more details, including a copy of the council application. Prospective members are invited to attend an upcoming PAC meeting as a guest, either virtually or in person, however, this is not a requirement.
When you are ready, submit your application and our staff will follow up to arrange an interview with the program director, PAC chair and co-chair. Members are appointed by the vice president for Student Affairs and serve three-year terms.
---
Champions for change
The PAC actively supports students in need through fundraising efforts. The Cal Poly Cares Professional Development Fund aims to support students who demonstrate financial need in attending and participating in professional development conferences, scholarly seminars, research initiatives and other extracurricular opportunities related to their academic discipline. To learn more, connect with a PAC member today.
If you have any questions, please email calpolyparent@calpoly.edu.
Parent Volunteer Corps
The Cal Poly Parent Volunteer Corps is a group of engaged parent and supporter volunteers who participate and help at a variety of campus events throughout the year. Participating as a volunteer is flexible and based on availability.
If you would like to participate as a member of the Parent Volunteer Corps, please complete the sign-up form. A member of the Cal Poly External Relations team will be in contact with you to activate your participation in this exciting group of university volunteers.
Related Content