Parent News: October 2018
In This Month's Newsletter:
---
There's Still Time to Register

for Mustang Family Weekend!
If you haven't already, now is the time to register for Mustang Family Weekend from October 19-21, 2018. Mustang Family Weekend is a great time for parents, families, and friends to return to campus and visit their student who have had time to settle in and make SLO their home. At Mustang Family Weekend, you and your family will:
Explore campus through interactive tours and hikes

Engage in Learn by Doing lectures and labs led by esteemed faculty

Enjoy receptions, live music and fun activities for the whole family

Attend athletic and performing arts events throughout the weekend

... and so much more!
Registration is for the entire family and includes: 
One parking pass for the weekend ($20 value)

One swag bag filled with exclusive Cal Poly gear ($25 value)

Receptions with food, live music and fun activities (over a $25 value)

Entrance to exclusive events and programming throughout the weekend (over a $25 value)
---
Recommended Parent Reading List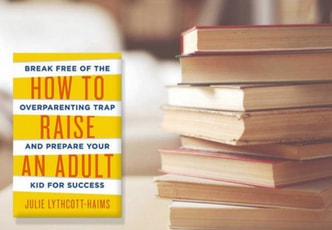 Ever wish there was a how-to guide on parenting college students? While there might not be a manual on raising young adults, there are several helpful resources, articles, and books to help you support your student. Each quarter Parent & Family Programs will recommend a recent and relevant book or article for parents and supporters of students of all identities and backgrounds.
Fall Quarter Reading Recommendation: How to Raise an Adult: Break Free of the Overparenting Trap and Prepare Your Kid for Success by Julie Lythcott-Haims
Written by a past Dean of Students at Stanford University, How to Raise an Adult "draws on research, on conversations with admissions officers, educators, and employers, and on her own insights as a mother and as a student dean to highlight the ways in which overparenting harms children, their stressed-out parents, and society at large. While empathizing with the parental hopes and, especially, fears that lead to overhelping, Lythcott-Haims offers practical alternative strategies that underline the importance of allowing children to make their own mistakes and develop the resilience, resourcefulness, and inner determination necessary for success."
Want to start a local Cal Poly parent reading circle? Browse Facebook for the many local Facebook groups created and maintained by current and past Cal Poly Proud parents. Happy reading!
---
The

Important of Pronouns
If you or your student has attended programs or events on campus, you may have noticed Cal Poly students, faculty, staff, and administrators introducing themselves along with their gender pronouns. Cal Poly aims to create an inclusive environment where everyone feels safe. Part of creating this culture includes making space for individuals to identify themselves how they wish to be perceived and seen by others. We often make assumptions about gender and pronouns based on appearance. However, these assumptions are not always correct and can be harmful. Creating space for folks to state their own identity fosters a sense of respect and safety that aligns with the Mustang Way.
For more information about pronouns, see the resources below:
---
Stay

Healthy Year-Round: On-Campus and Local Health Services
Whether your student is a first year or fourth year, understanding Cal Poly's health services and private insurance can help you as a parent feel safe and comfortable with your student living away from home. Cal Poly's Campus Health and Wellbeing provides year round care by appointment and walk-in basis to current students. Below is a list of frequently asked questions that can help you understand the scope of Cal Poly's health services and how it differs from private health insurance:
What health services does Cal Poly offer?
Health Services offers the following medical services to all Cal Poly students at no additional charge:

Primary physician and nursing care

Routine laboratory tests
Routine x-ray procedures

Men's/women's health care

Health education programs in nutrition, alcohol & drug awareness, and sexuality & lifestyle wellness
The following services are available for an additional charge:
Pharmacy items (prescription and over-the-counter items)
Certain lab tests when samples must be sent off campus for processing (i.e. pap, hormone panel, etc.)

Orthopedic supplies
How does my student pay for Health Services charges?
All Health Services charges are automatically charged to your student's PolyPortal account. Your student can for these charges through the PolyPortal or you as a parent can pay them through your CASHNet account.
Does my student need health insurance while at Cal Poly?
Cal Poly strongly recommends students carry private health insurance for medical and surgical problems beyond the scope of Health Services. Each student is encouraged to have their own coverage for major medical, surgical and emergency expenses. Cal Poly cannot pay for off-campus care. Therefore, an individual is responsible for those charges.
Students will need to use private insurance for the following:
Emergency services

Hospitalization

Urgent care services that occur after Health Services hours and at off-campus urgent care facilities

Basic or specialized medical services away from campus

Physical exams

Travel vaccinations
We recommend finding a primary care provider in the area in the case that any of these circumstances arise. Depending on your insurance, you can find a local physician by checking your insurance's website or calling the customer service number on your insurance card.
What emergency or urgent care services are available to my student?
In the case of emergency or after-hours situations, your student has the following resources available to them:
---
Campus

Safety: A Collaborative Effort
Cal Poly has several safety mechanisms in place to protect your student from anything from bike theft to natural disasters. You as parents and supporters play an important role in reading up on Cal Poly's safety programs and plans and encouraging your student to do the same. Together in partnership we can create a safer campus and city for everyone. Refer to the information below for safety tips, tricks, and emergency plans:
General Campus Safety Information:
Personal Safety Tips:
Campus Safety Resources:
On-Campus Housing Safety Information:
San Luis Obispo Safety Information and Resources:
---
Helping

Your Engineer Succeed: Cal Poly Women's

Engineering Program
The Women's Engineering Program wants to make sure your student is successful in their first year at Cal Poly. Your help and support can be a key element in achieving this success. One way to encourage and motivate your student is to discuss with them their academic progress and their future. Here are some things you can talk with them about.
What it means to be an Engineer
Engineers use their creativity, resourcefulness and strong analytical skills to solve the problems of our society. They need to be able to work as part of a team and communicate their ideas to others. There are many different areas within engineering, and also within each of the disciplines. Engineers can be designers, project managers, researchers, test engineers, sales representatives, etc.
Workloads and Definitions of Success
Cal Poly has some of the best and brightest engineering students. Many freshmen are used to getting very high marks in their classes and now that they are competing for grades with top notch students, their expectations may not be met. Also, new students may not be used to the workloads associated with college classes. Typically, students should study at least 2 hours a week per unit. Below are some statistics for previous freshman engineering students to help you gage your student's progress at Cal Poly.
Average GPA Average # of Units/Quarter All Eng. Students 2.54 / 4.0 13.9 Females Only 2.73 / 4.0 14.2
Other Ways to Aid in Success
It is important to remember that only a portion of a student's success can be measured by their grades. Employers look for students who take an active role in clubs and are able to work well with others.
Joining Clubs and Team Projects
It's never too early to get involved with clubs and team projects. If your student takes an active support role on the club/project during their first year, they could be leading the club/project in a few years. Technical projects are a good way to get practical engineering experience and to find out what their interests are. Some popular clubs:
Networking with Industry
There are many networking opportunities for students such as industry tours and company information sessions. This can give students an idea of some of the possible career paths they can choose and also make industry contacts.
The Society of Women Engineers holds "Evening With Industry" in January, with representatives from over 40 companies nationwide in attendance. SWE is also offering scholarships from many of these companies. For more information about these events or scholarship applications students can visit the SWE Office in Building 197, Room 212, the SWE website at swe.calpoly.edu, or call 805- 756-2417.
Academic Resources
Tutoring
Many clubs and departments offer tutoring for lower division classes. There is help available for Calculus, Physics, and other major courses. Contact the Academic Skills Center for a complete listing of available tutoring or visit their website.
Supplemental Instruction (SI) Classes
SI classes are additional classes held a couple hours a week and correspond to specific lower division classes and instructors. The classes review concepts learned in regular lecture, assist with difficulties in homework assignments, and help prepare for exams. These SI classes are usually announced at the beginning of the quarter.
Test Bank
The Society of Women Engineers (SWE) has put together a test bank of old exams for various classes. This is available for all SWE members to use and is a great study aid.
Networking with other students
A lot of times students' best resources are other students. Students can give advice on which classes and teachers to take. They also help each other with homework and study for exams together. SWE Big Sib, Little Sib Program offers mentoring to new students.
Recommended Books
WEP has a few recommended books that may help to better understand what students may be experiencing:
Mindset: The New Psychology of Success by Carol Dweck

Whistling Vivaldi: And Other Clues to How Stereotypes Affect Us by Claude Steele
---
Jump

Start the Job Search
It's never too early for your student to start learning invaluable career-readiness skills. Luckily, Career Services offers a variety of programs, services, and events to support and educate your student through this process.
Career fairs are a great chance to network and meet face to face with employers and learn about potential jobs and internships, and be considered for same-day or next day interviews. The following Career Fairs will be offered during the 2018-19 academic year:
| | | |
| --- | --- | --- |
| EVENT | DATE | LOCATION |
| Computing Career Fair | Tuesday, October 2, 2018 | |
| Fall Career Fair | Wednesday, October 3 & Thursday, October 4, 2018 | |
| Construction Management Career Fair | Thursday, October 25, 2018 | |
| Winter Career Fair | Wednesday, January 23, & Thursday, January 24, 2019 | |
| Architecture & Environmental Design Career Fair | Thursday, January 17, 2019 | |
| Construction Management Career Fair | Thursday, January 31, 2019 | |
| Local Career Fair | Thursday, February 7, 2019 | |
| Packaging Career Fair | Tuesday, February 26, 2019 | |
| Teacher Job Fair | Thursday, March 7, 2019 | |
| Spring Career Fair | Wednesday, April 17 & Thursday, April 18, 2019 | |
Career Services also offers the following resources to students of every year and major:
Career counseling: Meeting with your career counselor is a great way to receive guidance on a wide range of career-related topics such as: career exploration, changing majors, developing career plans, creating a resume, finding internships and full-time jobs, effective networking, developing graduate school plans, and making successful career transitions.
Workshops: Workshops are offered on a wide range of career topics and your student can earn their Career and Professional Development Certificate.
For more information about Career Services and their programs, contact them at careerservices@calpoly.edu or 805-756-2501.
---
Domestic

Violence Awareness Month
Cal Poly recognizes that domestic violence can affect anyone, including our students. While Cal Poly does not necessarily have a higher rate of domestic violence, this issue affects colleges and students across the nation. To raise awareness and educate students on this issue, red flags, forms of violence, and resources, Safer hosts Domestic Violence Awareness Month events every year in October. Below is a list of events hosted during this month:
Shelter Drive | October 1-31

Safer will be coordinating a Shelter Drive for community partners RISE and Stand Strong; students and supporters can donate the following new and unused items:

Laundry Detergent

Cleaning Supplies

Pillows

Luggage Bags

Diapers sizes 2-6

Gas Cards

Towels

Toilet Paper

Baby Wipes

Paper Towels

Grocery Cards

Department Store Gift Cards

Cash donations

Kick-Off Booth | October 1 | 11am-12pm | UU Plaza
Tacos & Tie Dye | October 11 | 11am-12pm | Dexter Lawn

Eat some tasty tacos and tie dye a purple shirt to wear on Oct 25 - "Wear Purple Day" to remember victims of Domestic Violence

Jackson Katz, Ph.D: "Men and #MeToo: Possibilities and Perils in a Time of Change | October 15 | 6pm | Embassy Suites, San Luis Obispo
Self-Care Summit | October 20 | 11am-3pm | MAC

Indulge in some free yoga, crafts and activities, and attend talks given by health educators on topics like "Constructing a Self-Care Practice", "Healing Your Body with TLC", and more

Candlelight Vigil | October 25 | 6:30pm | Mission Plaza, San Luis Obispo

Unite and light a candle in remembrance of all of those we have lost to domestic and dating violence
We encourage all students, even those who have not been affected by domestic violence, to attend these events to further educate themselves, be better equipped to support their friends or family who may be affected, and to show support victims/survivors.
Safer is Cal Poly's confidential advocacy, education and support resource for addressing sexual assault, sexual misconduct, dating violence, domestic violence, and stalking. Safer offers confidential crisis counseling Monday-Friday 9 a.m. – 5 p.m. in UU 217. Appointments are strongly encouraged and can be made online. Walk-in hours are Mondays 10 a.m. – 12 p.m. and Fridays 10 a.m. – 12 p.m. in Building 27 Room 184. Safer also provides educational presentations and trainings to all Cal Poly students, faculty, and staff.
If your student has experience any kind of assault or abuse, it is most important for them to know that it is not their fault, and that there are resources available to help them. If they are in an immediate emergency or unsafe place, they should call 911. Safer is available during business hours at (805) 756-2282 and RISE is available 24 hours a day at (855) 886-7473.
For Cal Poly's latest 2018 Annual Security Report which includes Clery Act crime statistics from 2015-2017, definitions of domestic/dating violence, and steps for reporting, click here.
---
Resource

Spotlight – Men & Masculinity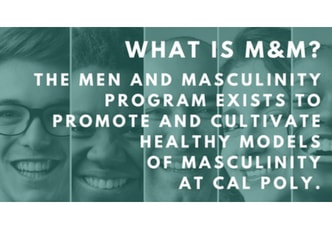 Cal Poly has a variety of great resources for a diverse student body. Each month we will highlight one that may be beneficial or of interest to your student.
The Men and Masculinity Program engages male-identified students regarding gender-based violence, with the purpose of establishing positive masculine gender norms on campus and responding to men involved in incidences of gender-based violence with restorative support.
Men and Masculinity will be hosting the following events in October:
Taco Tuesday | Last Tuesday of Every Month

Free tacos and great discussions about masculinity in our cultures and on Cal Poly's campus

Guyland Training | Begins Friday, October 5

Taking its name from Michael Kimmel's seminal text, Guyland, this eight-session training is a must for anyone interested in gaining an comprehensive understanding of masculinities.
Men's Dialogue Group | Tuesdays from 12-1pm

This group is a place for male-identified students to connect and collectively pursue healthy and authentic expressions of masculinity

Dr. Jackson Katz: "Men and #MeToo: Possibilities and Perils in a Time of Change

Internationally renowned violence prevention educator, Dr. Jackson Katz will be giving a free keynote presentation
Men and Masculinity also hosts a variety of events throughout the year such as Movember, Manifest, Men's Retreat, and more!
Students can get involved with Men and Masculinity through volunteerism, internships, student assistant positions, and graduate assistant positions.
Sign up for the Men and Masculinity Program newsletter for updates on programs, events, and services.
---
Sign up for Fall Commencement Emails
Is your student graduating this fall? Parents, supporters, family and friends can sign up to receive Fall Commencement 2018 information emails to stay in the loop about commencement ceremonies, regalia, parking, tickets and more. By signing up to receive these informational emails, you'll receive all the same content your student is receiving from the Commencement Office. Help your student stay focused on wrapping up their last quarter at Cal Poly by staying informed and in the know about the big event!
You can also follow Cal Poly Commencement on Facebook and Instagram to stay up-to-date with the latest news and announcements.
For questions or information about Fall Commencement, contact the Commencement Office at 805-756-1600 or commencement@calpoly.edu.
---
 Important Dates and Deadlines
October 1 | Second installment of housing payment plan and dining payment plan for 2018-19 due. A charge of $25 will be added for late payment (see fee schedules for payment amount).
October 1 | Intrahall trades begin (trades within the same hall).
October 1 | Last day to add or swap a class with a permission number via Student Center.
October 1 | Last day to drop classes and select CR/NC grading via Student Center.
October 1 | Last day to submit audit petition to the Office of the Registrar (5:00 pm).  
October 1 | Last day to log in and adjust your PolyPlan to avoid being placed in the last rotation appointment (PolyPlanner non-compliant) for Winter 2019 term by 5pm.
October 2 | Late Enrollment Appeal period begins.
October 2 | Interhall trades begin (trades to another hall).
October 8 | Last day to submit Late Enrollment Appeal (5:00 pm).
October 19-21 | Mustang Family Weekend
October 24 | Plan a Student Schedule (PASS) available for Winter 2019 Quarter at my.calpoly.edu
---
Upcoming Events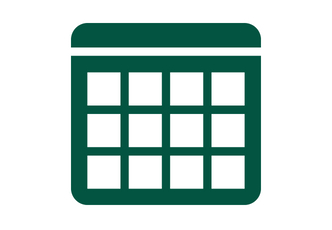 October 1 | Microsoft Lunch & Learn | 11am-1pm | Building 197 Room 104
WISH will be hosting a Microsoft Lunch & Learn, where Microsoft engineers will do a technical interview deep-dive by going through technical coding questions and best practices in solving them.
October 4 | Study Abroad Fair | 10am-2pm | Building 3 Breezeway and Dexter Lawn
Cal Poly's International Center will be showcasing study abroad, exchanges and internship programs at the annual Fall Study Abroad Fair on Dexter Lawn. The campus community is welcome to attend the fair to learn about opportunities to study, intern, or teach abroad.
October 5 | Sales Engineering Career Fair | 11am-2pm | building 197 Room 104
Sales Engineering related career fair providing students opportunity to network and seek out full time and internship positions pertaining to sales engineering.
October 5 | OCOB Seminar Series | 3:10-6pm | Building 3 Room 206
October 6 | SLO Symphony Classics | 11am-1pm | Performing Arts Center
October 6 | Brahms Songs | 3-4:30pm | Building 45 Room 218
Join the Cal Poly Music Department's Katherine Arthur, soprano; Paul Woodring, piano; and David Arrivee, lecturer; in a delightful afternoon of performance and exploration of many well-known and loved Brahms songs! $5 at the door.
October 6 | Men's Soccer vs. UC Riverside | 7-9:30pm | Spanos Stadium
October 6 | Smile and Nod Show | 7:10-9:45pm | Building 6 Room 124
October 11 | Federal Work-Study Workshop | 11:10am-12pm | Building 180 Room 112
October 12 | Chemistry Department Fall Seminar Series | 11:10am-12pm | Building 21 Room 133
October 12 | OCOB Seminar Series | 3:10-6pm | Building 3 Room 206
October 13 | Fall Poolooza | 1-4pm | Recreation Center
October 13 | Smile and Nod Show | 7:10-9:45pm | Building 6 Room 124
October 14 | Cal Poly Field Hockey vs. Chico | 12-2pm | Sports Complex Turf Field 1
October 16 | Campus Sustainability Month Festival | 10am-2pm | Dexter Lawn
Join Cal Poly sustainability clubs and organizations for a festival on Dexter Lawn, it's World Food Day too so expect lots of good samples, music and fun!
October 16 | Campus Sustainability Month Movie Screening | 6-9pm | UU 220
Celebrate Campus Sustainability Month with a free movie screening, free snacks, and sustainability schwag!
October 17 | Men's Soccer vs. Sacramento State | 7-9:30pm | Spanos Stadium
October 18 | National Transfer Week – Transfer Student Panel | 11am-1pm | Chumash Auditorium
Association of Transfer Students National Transfer Week Transfer Student Panel where transfer students can ask questions to previous transfers.
October 19 | Transfer Student Mix and Mingle | 11am-1pm | UU 221
This will be an event where transfer students interact and network with other transfer students. There will be ice-breaker games as well as food and drink.
October 19 | Chemistry Department Fall Seminar Series | 11:10am-12pm | Building 14 Room 249
October 19 | Intelligence in the Arts | 2:10-4pm | Building 180 Room 101
In this lecture, Dr. Henley will discuss philosophical, cognitive, and neuroscientific justifications for viewing artistic practice and arts education as environments for the manifestation of intelligence. Adopting a neurodiversity framework, Dr. Henley will frame the revaluation of artistic ways of knowing and being in the world as a diversity and inclusion strategy, leveraging individual aptitudes in the arts as a way to support academic, professional, and personal success.
October 19 | OCOB Seminar Series | 3:10-6pm | Building 3 Room 206
October 19 | Cal Poly Music Faculty Showcase Recital | 6:30-7:30pm | Building 45 Room 218
October 19 | Women's Soccer vs. Hawaii | 7-9:30pm | Spanos Stadium
October 19 | Tom Papa | 8-9:30pm | Performing Arts Center
With more than 20 years as a stand-up comedian, Tom Papa is one of the country's top comedic voices, finding success in film, TV, radio and podcasts, as well as on the live stage. One of Jerry Seinfeld's favorites, Papa returns to the PAC with his signature old-school charm tinged with hilariously offbeat musings on life and its absurdities. 
October 19-21 | Mustang Family Weekend
October 20 | Football vs. UC Davis | 4-7pm | Spanos Stadium
October 20 | Smile and Nod Show | 7:10-9:45pm | Building 6 room 124
October 21 | Cal Poly Field Hockey vs. Santa Clara | 12-2pm | Sports Complex Turf Field 1
October 21 | MET Live in HD: Aida | 2-5pm | Performing Arts Center
October 21 | Men's Soccer vs. UC Irvine | 7-9:30pm | Spanos Stadium
October 26 | Chemistry Department Seminar Series | 11:10am-12pm | Building 14 Room 249
October 26 | OCOB Seminar Series | 3:10-6pm | Building 3 Room 206
October 27 | TEDx Event | 4-8pm | Performing Arts Center
October 27 | Smile and Nod Show | 7:10-9:45pm | Building 6 Room 124
October 27 | Cal Poly Choirs Fall Concert | 8-9:30pm | Mission San Luis Obispo
October 28 | Svyati Duo Organ Concert | 3-5pm | Performing Arts Center
Drawing from their tireless repertoire of both original works and masterpiece transcriptions, cellist Rebecca Hepplewhite and organist Julian Collings have gained international critical acclaim for their unique instrumental combination and ability to captivate an audience.
October 31 | Craft Sale | 10:10am-4pm | UU Plaza
---
Important Campus Phone Numbers
Admissions | (805) 756-2311
Career Services | (805) 756-2501
Commencement Office | (805) 756-1600
Counseling Services | (805) 756-2511
Disability Resource Center | (805) 756-1395
Financial Aid Office | (805) 756-2927
Health Services | (805) 756-1211
Mustang Success Center | (805) 756-6211
Parent and Family Programs | (805) 756-6700
Student Accounts | (805) 756-1428
University Housing | (805) 756-1226
University Police Department | (805) 756-2281
Related Content